6

Week 5
6.1

Week 5 Learning Objectives

At the end of this lesson you will be able to:
Appropriately understand and weight skepticism and discovery and data science
Identify and fix key problems with data analytic figures
Identify common data analytic mistakes and their characteristics
Identify common over-skepticism pitfalls and think carefully about the skepticism/discovery tradeoff
6.2

Skepticism vs. Discovery
The first principle is that you must not fool yourself – and you are the easiest person to fool. - Richard Feynman
Statisticians often think of themselves as referees - we have the habit of standing just outside of a scientific field and poking holes in the choices that the analysts or scientists made when analyzing their data. This isn't entirely bad, as skepticism is a key component of performing thoughtful data analysis.
But being a data scientist or doing data science involves a more delicate tradeoff. You have both be searching for new discoveries and simultaneously skeptical of what you find. Getting to the right place in the discovery vs. skepticism balance will depend somewhat on the role you are playing - statisticians at the FDA should be more skeptical, while data scientists at new startups made need to focus on discovery. However, all working data scientists should both be aware of the tradeoff and think carefully about where they want to be in terms of balance.
If you tilt too far toward skepticism, you will inevitably not be involved in the biggest and most exciting discoveries we can make with data. But if you strive entirely for discovery you will almost certainly fool yourself and others. Perhaps the greatest complement you can pay to a data scientist is that they are thoughtful about the way they consider a data set.
This has actually been a huge challenge for the field of statistics - which has traditionally heavily weighted skepticism. In many of the early (and ongoing!) data science initiatives you won't find many statisticians. This is both bad for data science and bad for statisticians. As Roger put it in his post Statistics and the Science Club (from way back in 2012!):
[Data Science] presents an enormous opportunity for statisticians to play a new leadership role in scientific investigations because we have the skills to extract information from the data that no one else has (at least for the moment). But now we have to choose between being "in the club" by leading the science or remaining outside the club to be unbiased arbiters. I think as an individual it's very difficult to be both simply because there are only 24 hours in the day. It takes an enormous amount of time to learn the scientific background required to lead scientific investigations and this is piled on top of whatever statistical training you receive.

However, I think as a field, we desperately need to promote both kinds of people, if only because we are the best people for the job. We need to expand the tent of statistics and include people who are using their statistical training to lead the new science. They may not be publishing papers in the Annals of Statistics or in JASA, but they are statisticians. If we do not move more in this direction, we risk missing out on one of the most exciting developments of our lifetime.
Fortunately since Roger wrote this statistics as a field has slowly become more supportive of data science and open to different weights on skepticism vs. discovery. But it still is an important tradeoff that each field must consider. As Rafa Irizarry put it:
Few will deny that our current system, with all its flaws, still produces important discoveries. Many of the pessimists' proposals for reducing false positives seem to be, in one way or another, a call for being more conservative in reporting findings. Example of recommendations include that we require larger effect sizes or smaller p-values, that we correct for the "researcher degrees of freedom", and that we use Bayesian analyses with pessimistic priors. I tend to agree with many of these recommendations but I have yet to see a specific proposal on exactly how conservative we should be. Note that we could easily bring the false positives all the way down to 0 by simply taking this recommendation to its extreme and stop publishing biomedical research results all together.
He goes on to produce this hypothetical ROC curve for the scientific enterprise. An ROC curve plots the rate of true discoveries on the y-axis (in this case, hypothetical true discoveries per decade) versus the number of false discoveries (in this case, hypothetical false discoveries per decade). He highlights two fields - physics and biology. Physics as a more mature, and possibly more well understood field, makes many discoveries even with a strict cutoff for false discoveries. Biomedical sciences is much less well understood and so offers the potential for more discoveries, however, if we are too strict with our approach we may miss many important discoveries in our effort to root out all potential false discoveries.
This week we will focus on how to identify potential issues with a data analysis - while we do this we should be aware that though these techniques of skepticism are important, we should also be careful to not over apply them lest we miss the opportunity to find important discoveries.
6.3

Figures

We will cover the creation of figures for papers in a separate lecture. But there are a few principles to consider when evaluating a figure in a data analysis. Many of these ideas are borrowed from Karl Broman. There are a variety of reasons to create statistical graphics, infographics, and data visualizations. They depend on the audience and community. However, for data analyses intended to support a scientific claim, there are a few common categories of issues you should look out for.
6.3.1

Just modeling results -> show the data!

In many data analytic reports you will find a series of tables and regression modeling results, but no graphical displays of the data whatsoever. It is well known that regression models can obscure important data characteristics. One of the earliest example is Anscombe's quartet - a set of four data sets that have exactly identical regression coefficients, statistics, and inference, but have wildly different behavior.
A more hilarious recent version is the Datasaurus dozen, a set of twelve data sets that all have identical regression summaries (same mean in x, same mean in y, same correlation, same standard deviation, etc)
If an analysis produces only statistical summaries and no visualizations of the data, then you should be skeptical that something could be going on "under the hood". Similarly, when performing your own data analyses you should be sure to show the data.
6.3.2

Dynamite plots -> scatterplots

Another very popular type of plot is the "dynamite plot" (shown on the left here in this great paper on data visualization in biology)
Dynamite plots are very popular in molecular biology but often appear in other forums as well. As you can see though, the reporting of just a mean and variance can obscure wildly different data distributions. Be wary of dynamite plots in published analyses, especially with small sample sizes. In your own analyses you can use beeswarm plots or boxplots with points overlayed.
6.3.3

Ridiculograms -> clustering diagrams

Ridiculograms have been defined as
Visually stunning, scientifically worthless, and published on the cover of Science or Nature
These graphs take the form of a tangled hairball network diagram like these.
It is often better to show more of the data and create clustering diagrams as an alternative to ridiculograms as described in this paper.
A good package for creating nicely labeled heatmaps in R is the pheatmap package.
6.3.4

Venn diagrams -> upset plots

Venn diagrams are often used in data analyses to represent intersections between groups. However, if the number of intersections starts to grow even in a bit you can end up with some fairly difficult to read and often borderline silly graphs like this.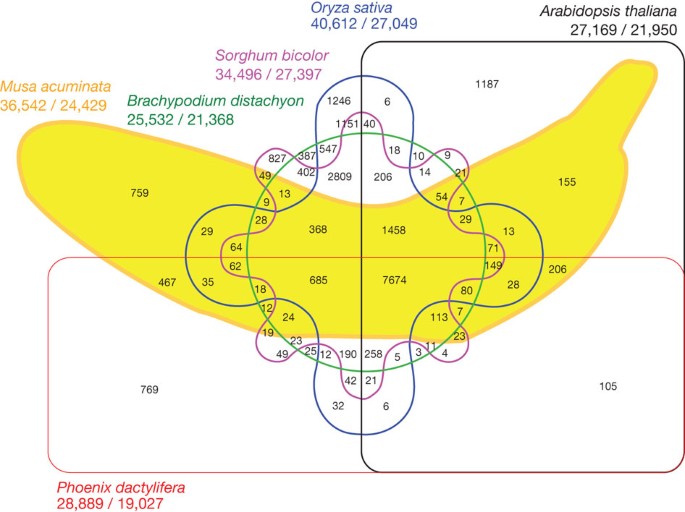 An alternative approach for complicated intersections that is often much easier to read (and less likely to end up bananas) is the UpSet plot which you can make with the unhelpfully capitalized UpSetR package.
These plots represent the most common intersections and also can be used to illustrate both marginal and conditional relationships.
6.3.5

Extreme variation in scales -> log scales

For many types of measurement devices, data can be measured on a very broad range of scales. Here is an example from two microarrays measuring the same 20,000 genes on two different samples from Karl Broman's lecture.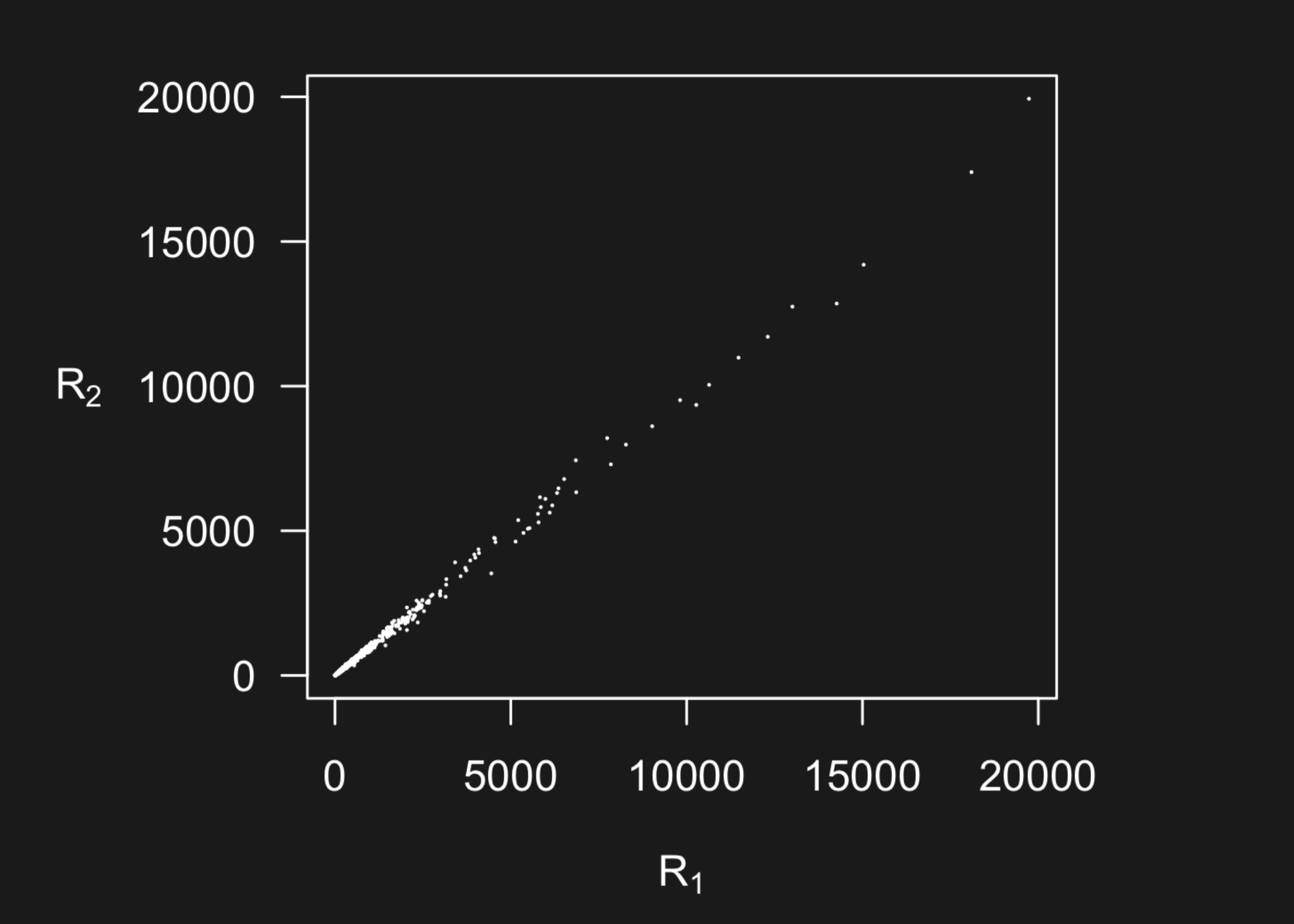 But what you can't see in this plot is the data is highly concentrated at smaller scales - with 50 percent of the data below the pink line and 99 percent of the data below the blue line.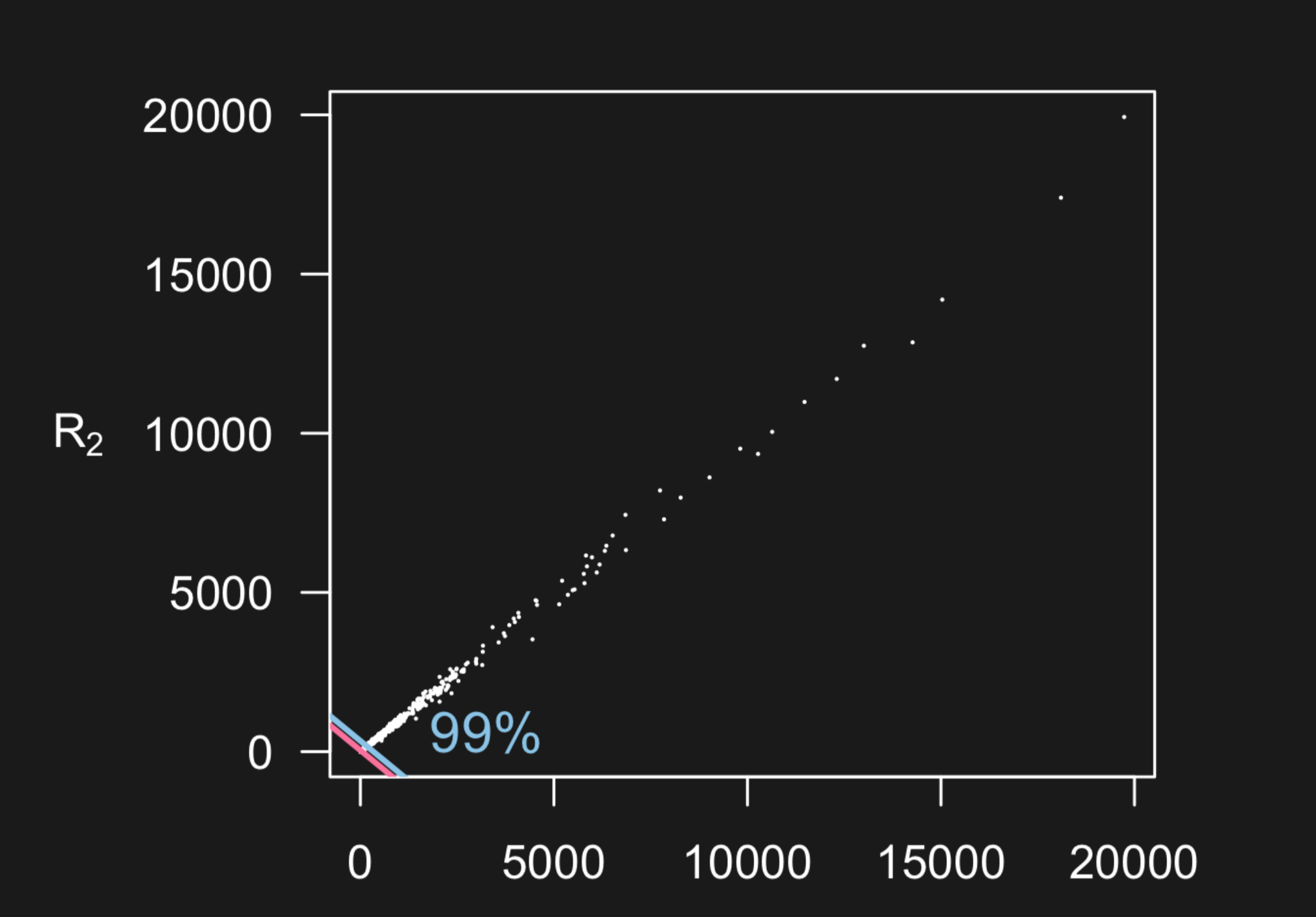 When you see plots like this that span a very large range with possible outliers, you might dig in deeper to see if a lot of the variation in the data is being obscured by the larger measurements. One solution is to plot the data on the log scale - so the data are more visible.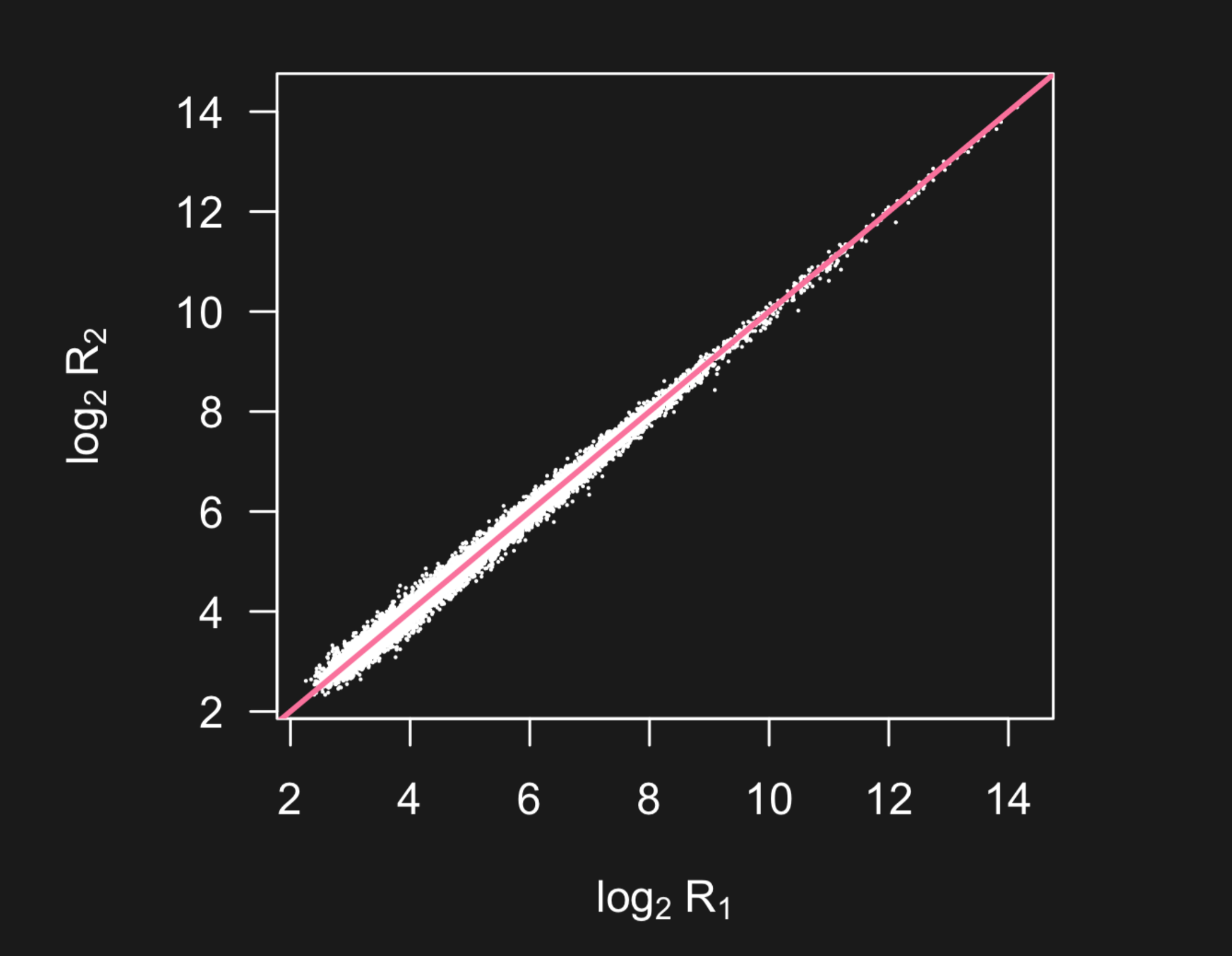 6.3.7

Axes cutoff -> plot to zero

When reading barplots, it is important to check the y-axis. Often a plot can seem to show big differences - for example the plot on the right.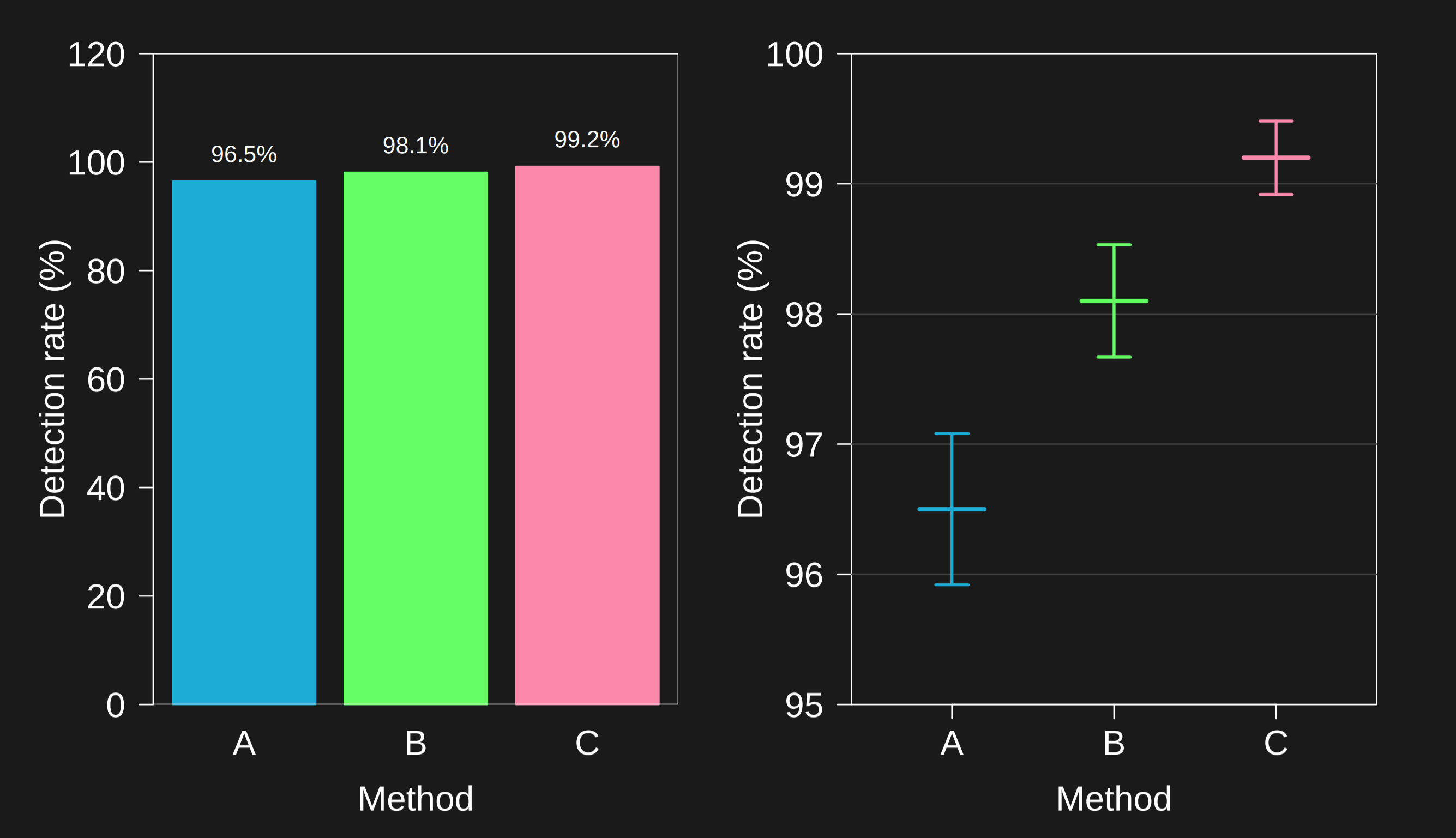 However, when you set the axis all the way to zero it may be clear that the numbers are only separated by a small amount. This is one of the most commonly used techniques for deceiving with graphs. But both ways can be appropriate - it depends on what difference actually matters. The main thing here is to check the y-axis and in your own plots, to point out if you don't start the axis at zero prominently.
6.3.8

3d graphics -> just don't

3-D graphs are common in some charting software. They distract, they make comparisons harder. If you see them, you should be skeptical about what is being hidden. In your own practice, just don't.
6.3.9

Pie charts -> adjacent bar plots

The statistician Bill Cleveland did a famous experiment where he showed people two types of graphs - pie charts and line charts.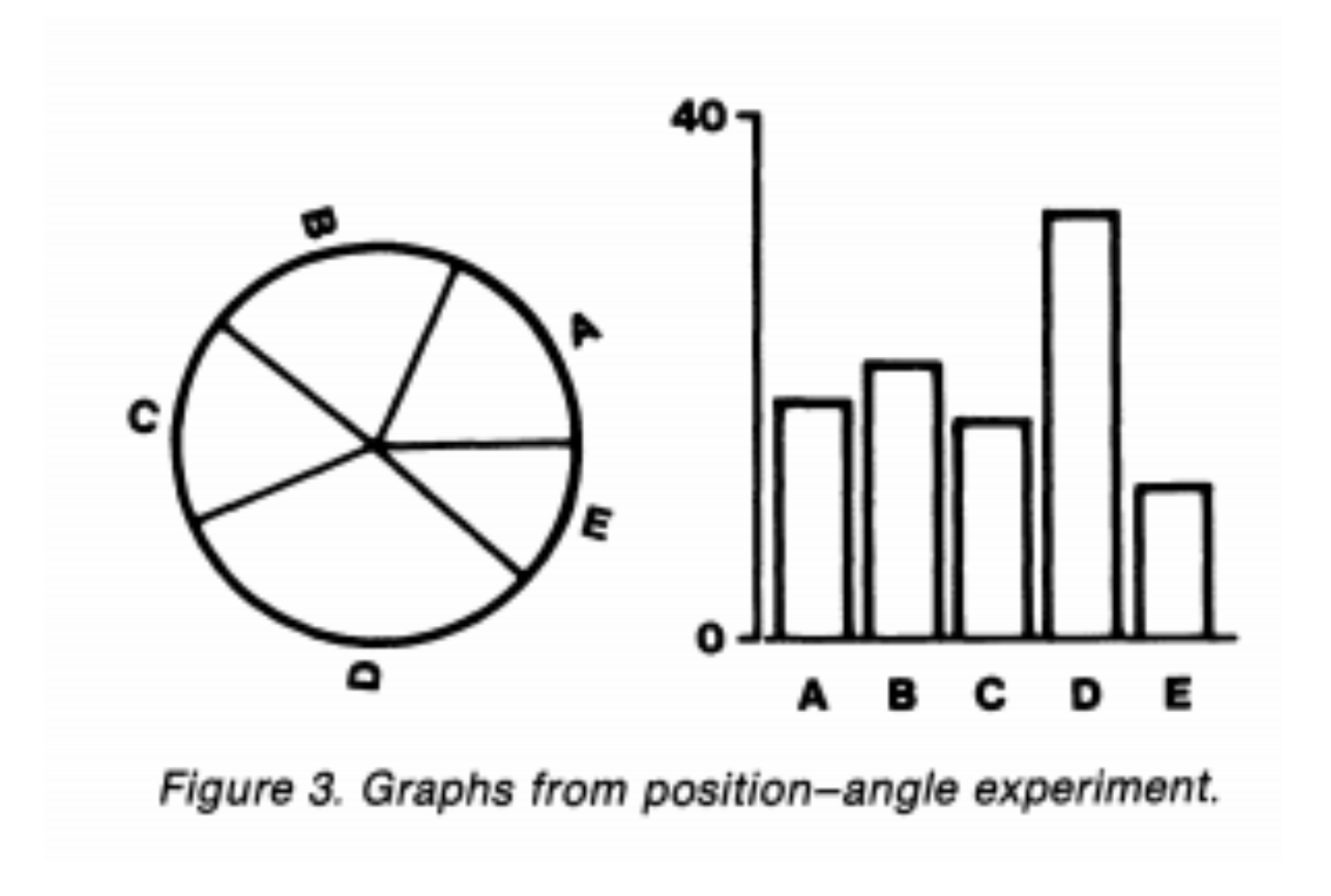 Then he asked them to estimate the size of the dotted portion of the graph. People had much lower error when juding length in side-by-side barplots than in pie charts.

This experiment is why statisticians don't like pie charts! If you see one, especially with many slices - you might want to look for the data in tabular form. If you are doing the analysis yourself put the data in bars.
6.3.10

Difficult comparisons -> put things close on linear axes

From Karl's lecture consider comparing the blue element to the pink element. Which case is easiest?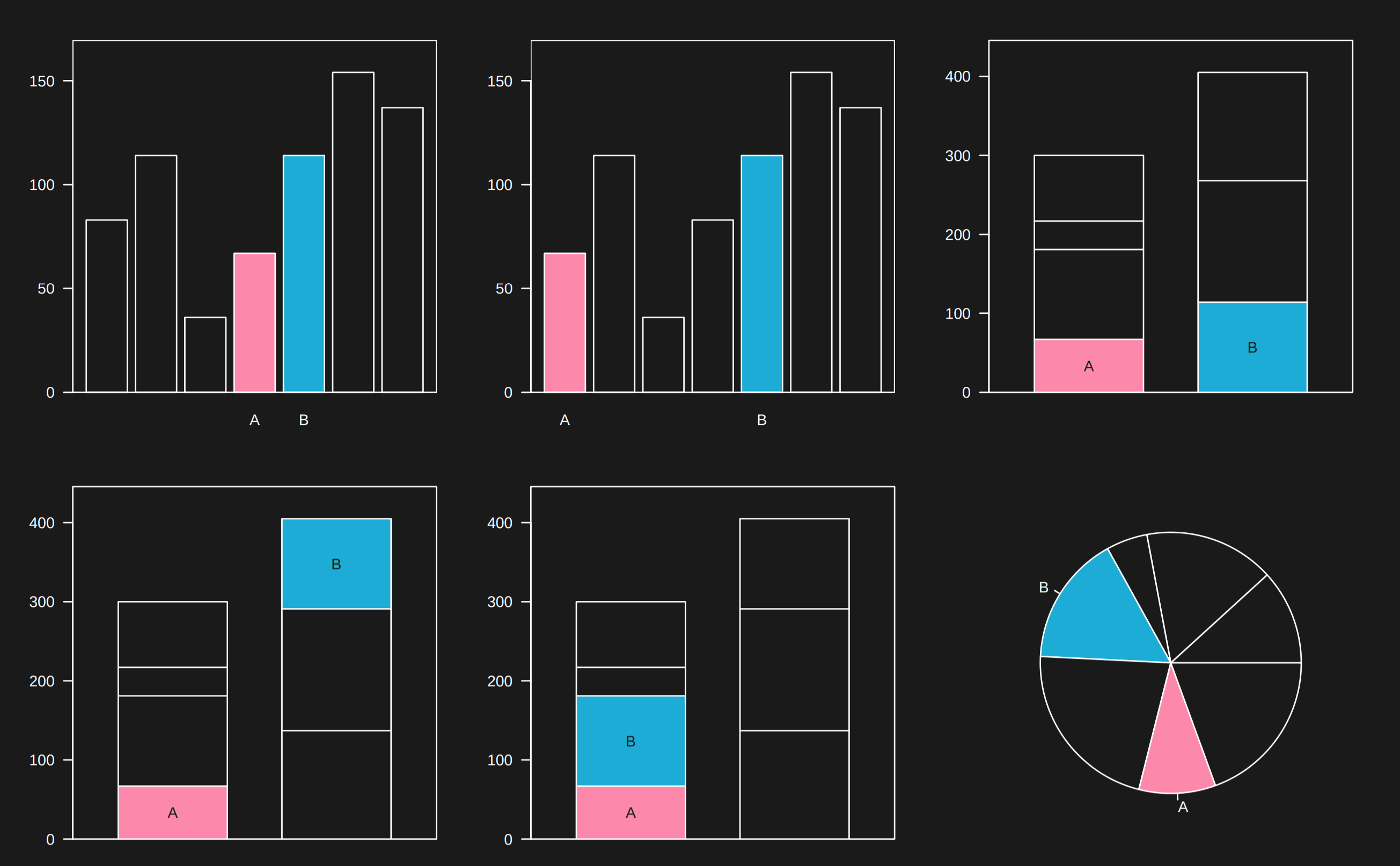 If you see a very complicated comparison asking you to compare small slices of two separate pie charts, be skeptical that you will be able to make that comparison well. In general putting things on a linear scale and close together when making a comparison makes it easier for the reader.
6.3.11

Comparisons hard to make between plots -> use common axes

If you see a comparison between two plots in different panels, it is important to check to make sure the axes are on the same scale as it can be really deceiving if they aren't.
library

(tidyverse)


library

(patchwork)
dat =

 

tibble

(

x=

rnorm

(

100

,

mean=

2

),

y=

rnorm

(

100

,

mean=

25

))

p1 =

 

dat 

%>%




        

ggplot

(

aes

(

y=

x)) 

+

 

geom_boxplot

() 

+

 

theme_minimal

()
p2 =

 

dat 

%>%




        

ggplot

(

aes

(

y=

y)) 

+

 

geom_boxplot

() 

+

 

theme_minimal

()

pcombined =

 

p1 

+

 

p2
pcombined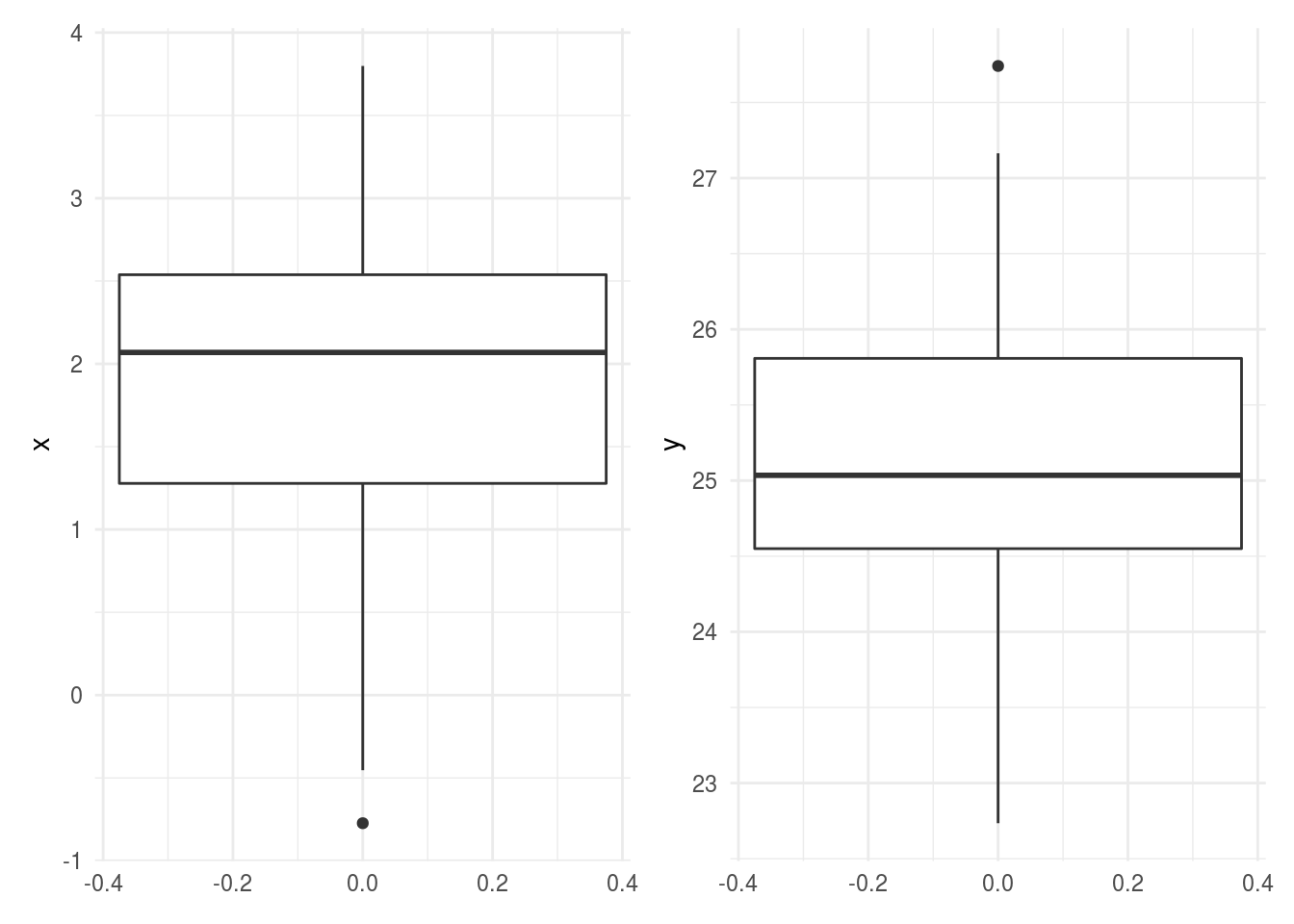 In general if you see comparisons like this where the axes aren't on the same scale, you might be concerned that the author doesn't realize the measurements aren't compararable. In your own analysis, you will want to make sure comparisons across plots have aligned axes and axes on the same scale.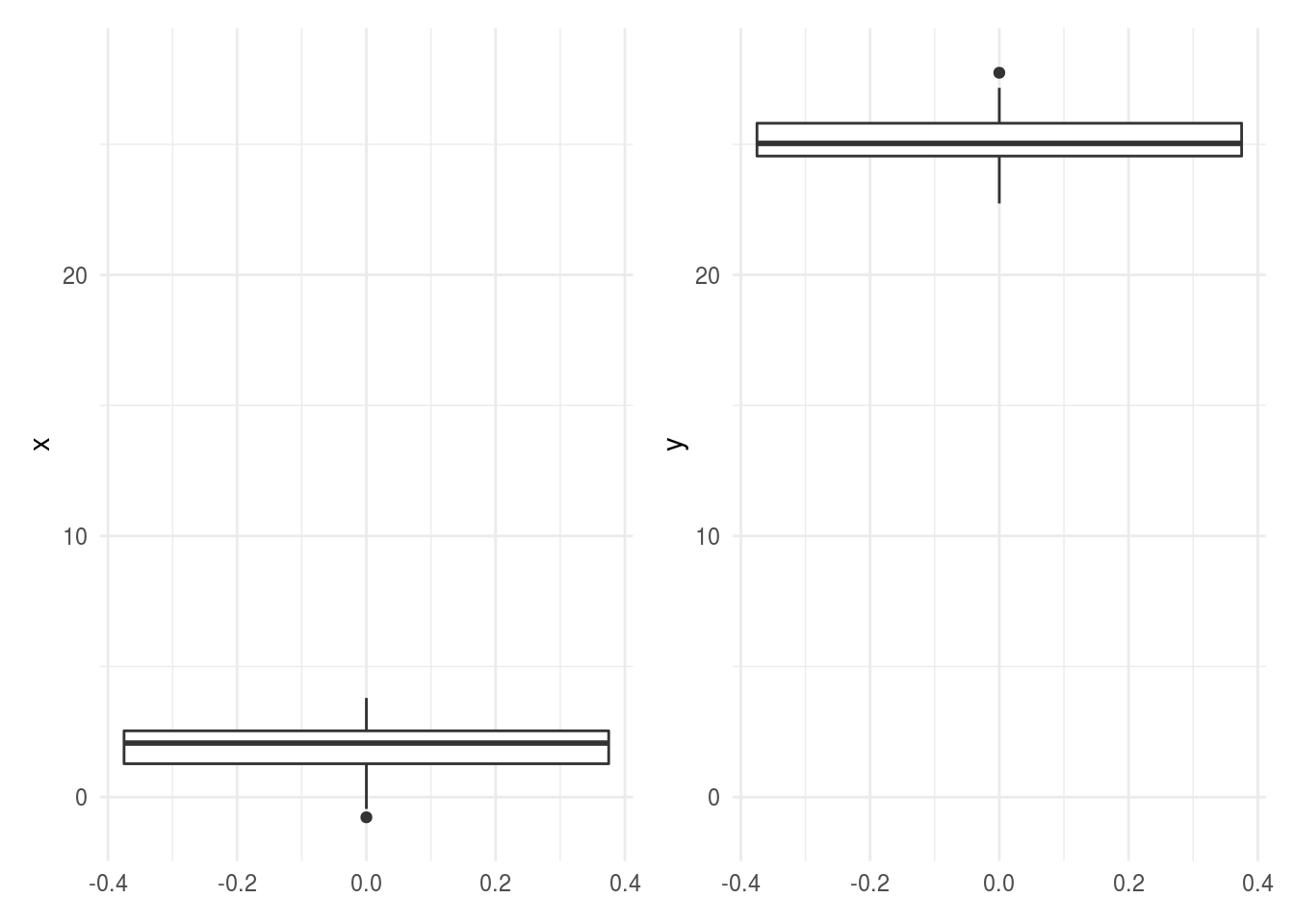 6.3.12

Legends hard to follow -> use labels

Legends in graphs often make you do two steps at once: (1) figure out what a color or size means and (2) make the comparison between levels of that color or size. For example on the left the color is labeled in a legend. You have to glance up to the legend, then back to the graph to follow what is going on. It is much easier if the labels appear directly on the graph.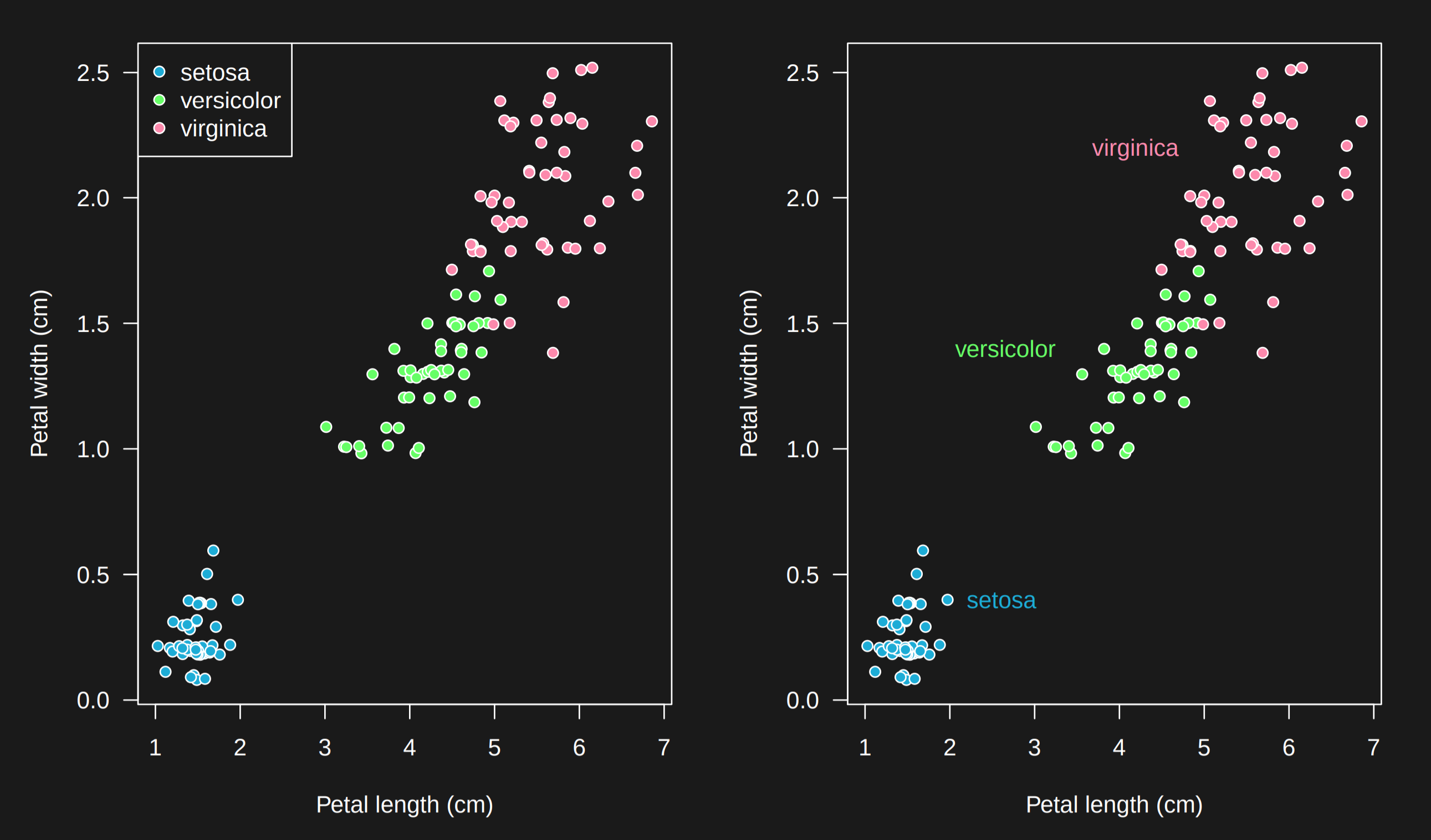 This is not to say that legends on graphs are bad! But moving toward labels encourages simplicity in the labels and reduces cognitive overhead on the reader.
6.3.13

Confounders aren't clear -> color by confounder

When you are looking at a scatterplot in a paper for a primary comparison or correlation where important confounders have been discussed - always look for a graph where the points have been colored by the values of the confounder. For example here is a plot of the top two principal components of a gene expression data set from Rafa Irizarry's genomics book.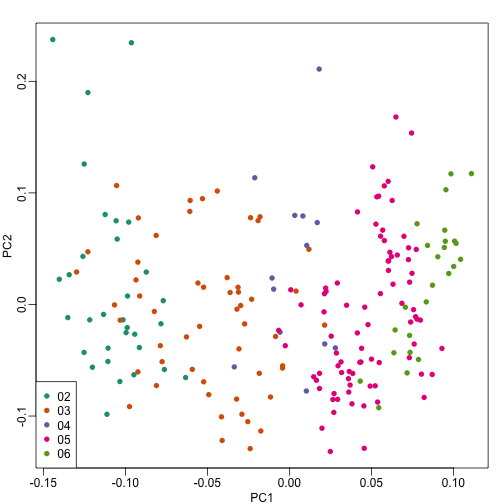 The PCs have been colored by the year the samples were processed. You can see that there is a clear relationship between the PCs and the date the samples were processed - making it an important potential confounder!
6.4

Common data analytic fallacies

This section based on the fantastic lecture by Stephanie Hicks and derived from material in Rafa Irizarry's data science book - this section is licensed CC BY-NC-SA 4.0 based on Rafa's license.

As we learned last week, Skepticism is one of the key principles of data analysis. Perhaps the best known piece of skepticism we teach to statistics students is that: > "Correlation is not causation"

In our course we will consider tools useful for quantifying associations between variables. However, we must be careful not to overinterpret these associations.

There are many reasons that a variable \(X\) can be correlated with a variable \(Y\) without either being a cause for the other. Here we examine three common ways that can lead to misinterpreting data.
Spurious correlation
Outliers
Reversing cause and effect
Confounders
Next, we will discuss in detail what each of these are and give an example.
6.5

Over-skepticism

There is a famous paper called Why most published research findings are false. There are also claims that billions are wasted due to lack of reproducibility and that most psychological studies won't replicate.

These represent very flashy and field defining examples of over skepticism. But there are more subtle forms that often come up when applying statistics within the context of statistics - where sometimes the role of referee is taken too far.
6.5.1

Everything must be causal

Recall from the types of questions that we might be interested in whether the manipulation of one variable causes a change in another variable. However, sometimes it is sufficiently interesting to simply see a correlation between variables. If an analysis is not over-interpreted, it is perfectly reasonable to present an association - sometimes the desire for causality will cause people to throw out interesting correlations.
6.5.2

Nothing can be causal

Causal inference as a subfield of statistics places extreme weight on skepticism versus discovery. This is often a very good thing. I want the FDA to be skeptical when they are evaluating what medicines I can take and if they might kill me! But there are also cases where observational data, carefully analyzed, can suggest causal relationships. This is tricky to do well in practice, but as a field there is a tendency to criticize any analysis attempting to discover causal relationshps unless is an idealized randomized trial - which hardly ever happens.
6.5.3

You should answer my question, not yours

When you read a data analysis there is a question the authors were trying to answer. Sometimes this corresponds to the question that you care about and sometimes it doesn't. A common tendency is to criticize a data analysis for not answering the question you wanted answered, even if it does a perfectly reasonable job of answering the question they set out to answer.
6.5.4

You used (insert method I don't use) therefore the analysis is wrong

Statistical modeling choices are made both for scientific and well-justified theoretical reasons; they are also made due to personal preference, ease of use, tradition in a field, and many other reasons. It is common to criticize analysts for using a different method than the one you would have used. Sometimes this is justified and the chosen method produces incorrect results, but often it is simply a personal preference and it makes more sense to understand the analysis in the context of the methdods used.